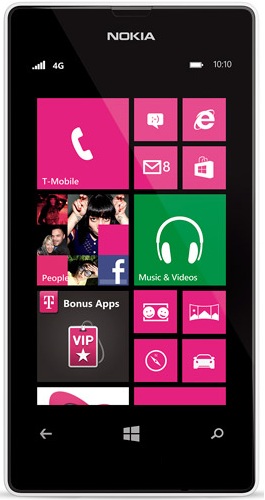 Metro PCS Nokia Lumia 521
Get great features at a great value with the Nokia Lumia 521. Snap and share photos of friends and family with a 5MP camera that features special digital lenses. Experience a sleek, ultra-modern design, Windows 8 platform, and touchscreen display.
• Connect and browse easily with the Windows 8 platform
• Snap creative photos with built-in digital lenses
• Listen to your favorite songs with Nokia Music
New Device purchase require a SIM Starter Kit which will be added to your order automatically.
The Lumia 521 comes with 4G speed, no annual contract, and a range of great features only found on Nokia Lumia. This includes built-in digital camera Lenses like Cinemagraph, Smart Shoot, and Panorama, as well as other great apps like HERE Maps—the only truly offline maps, HERE Drive—free voice-guided navigation, and free streaming music through Nokia Music.
Metro PCS Press Center:
"As the first Windows Phone 8 product in the MetroPCS lineup, the Lumia 521 is another way the company is delivering what consumers demand – more choice – and at a great price for just $99 (plus taxes and fees). Powered by a 1GHz dual-core processor, the Lumia 521's Live Tiles give users a customizable home screen that quickly delivers the most up-to-date information that they care about most, all displayed on a super-sensitive 4-inch display. The smartphone's 5MP camera packs a number of great features like 720p video capture, Nokia digital lenses, Smart Shoot to create the perfect group shot, and Cinemagraph to add motion to pictures. The Lumia 521 is available July 26 in select markets."