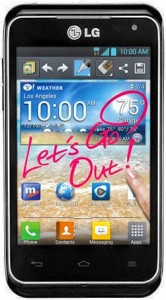 The latest phone to have been introduced by Metro PCS, the Metro PCS LG Motion truly delivers good value for money. Although it can't be termed as being the best phone brought out in the market by the carrier, it definitely has a lot of 'quirks' to offer. To be honest, the features that it delivers are hard to argue against a basic price of mere $99 – $149 that too without a contract! It comes with an amazing dual core processor and presents just about everything that would put other budget phones to pure shame.
Features of the Metro PCS LG Motion
This particular phone by Metro PCS is not all that substantial in terms of its size and has a dimension of 2.4×4.4x.45. Its overall weight lies roughly around 4.7 ounces and has a textured back. It comes with a great 5-megapixel camera together with a microSD memory card slot that is situated right beneath the back cover. Although it has a screen that dominates its appearance, it wouldn't be wrong to term the screen as being 'not too impressive'. The reason is that the touch screen (which is a full 3.5 inches) tends to be a bit on the dimmer end, and ends up having fingerprints printed all over it. 
Metro PCS LG Motion Reveal Trailer
Reception and call quality
The good thing about the Metro PCS LG Motion is that it has outstanding reception. Also, the call quality is really high as well. Another outstanding advantage delivered by the phone is that it has an excellent microphone that has great noise cancellation abilities. The quality of the speakerphone however is just about average, but can easily be used outdoors. Lastly, the most appealing aspect of the phone is its battery life, which comes down to a full 7 hours and 35 minutes of talk time!
The 4G experience that you would get out of this Metro PCS phone is exquisite to say the least – well, good at least to the point that 3G phones such as the cheaper models by Virgin would get blown away for sure. Like a majority of phones offered by the carrier, Metro PCS LG Motion offers Device-scape's Easy WiFi, which makes it possible for the phone to log you into all public WiFi hotspots. This is definitely a cool feature and would have been awesome if users were given the ability to make calls in WiFi only areas.
Overall performance and Android Apps
The phone is fast and speed is never going to be an issue that you would face with it. Although this particular phone by Metro PCS has got the exact same processor as that of the LG Connect 4G (1.2 Ghz dual-core Qualcomm S3), but the thing with this one is that it pushes far less pixels. The screen has a mere 153.6k pixels, which guarantees quicker responses and enhanced frame rates. All in all, a quick phone for sure.
Also, the Metro PCS LG Motion happens to be the first phone offered by the carrier that has Android 4.0. The Web browser on the phone is far quicker than the one that was present in past models. Generally speaking, the overall interface is fairly skinned, and LG has introduced its very own app drawer and launcher into it. The downside to it is the addition of mountains of bloatware by MetroPCS. However, there also remains the fact that this is the only phone at the moment by the carrier that allows you to have the Ice Cream Sandwich. When you consider how tough it is to find an upgrade to Metro PCS phones, you are definitely going to appreciate this element.
Now, a major downside to this phone is that it is filled up with countless Metro PCS apps. Yes, that sounds good, but the thing is that a majority of them are poorly implemented to say the least. The worst apps in this regard are Sportacular and IntoNow. Also, MetroXtras seems to continually just pop up terrible ads and you would need to disable it particularly to stop having to deal with these. Also, Asurion Total Protection is an app that you just can not delete – well at least till the time that you pay an extra fee for it!
Moving on, these basic downturns can easily be covered up by the fact that this Metro PCS LG Motion phone has outstanding media support – the kind that you just can't expect from a cheap Metro PCS phone in this price range. Another rare occurrence for this price range is that of its amazing 5-megapixel camera
Conclusion
All in all the Metro PCS LG Motion is a great phone that truly delivers good value for money. However, the phone just might end up becoming people's second choice because of its low resolution screen. However, for such a cost-effective price, you really can't expect everything to be perfect can you?
Factory/Hard Reset Metro PCS LG Motion
Factory or Hard Resetting the phone will return the phone back to original settings like it was brand new out the box.  All pictures, content and data will be DELETED.  In order to factory reset the LG Motion, the phone must be turned off.  (press and hold POWER button for 8-10 seconds or take out the battery.)
Turn your LG Motion off. Hold down the Power key and the Volume Down key at the same time. Release them when you see the Factory Hard Reset screen.

Press the phone's Power button to confirm the process. Alternately, press a Volume key to cancel the reset.
Press the Power button again to confirm the factory reset. Wait while the phone is reset to its factory settings.
If encryption mode is enabled on the memory card, it must be turned off before the factory reset is performed in order to retain the information that was on it.