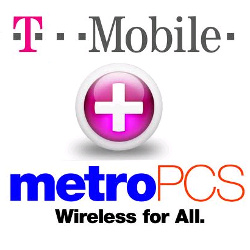 The long awaited merger between Metro PCS and T-Mobile has finally taken place. According to reports, the merged company is going to be known as T-Mobile US, Inc. The company would additionally be trading on the stock market under the name stock symbol TMUS.
Through the Metro PCS T-Mobile Merger,T-Mobile is going to leverage the spectrum from MetroPCS. This is basically going to make it possible for T-Mobile to build on its LTE network, which was recently started off during the month of March. This particular spectrum position is going to present the company with enhanced and amplified network coverage together with far better 4G LTE coverage in some of the most important markets all through the country. When the spectrum of both companies is going to combine, it is going to provide a path to nearly 20+20 MHz of 4G LTE by the year 2014 in nearly 90% of the top 25 metro areas!
Considering the fact that Metro PCS is a well-known CDMA carrier and has approximately 9 million subscribers all over the world, any of its subscribers that do not move away from T-MobileUS would have to be transitioned on to the GSM network of T-Mobile. This is because it would be necessary for the carrier to start utilizing that particular spectrum, and to be honest, it isn't a process that is going to be completed right away. It is going to take up quite a bit of time. T-Mobile has been through an extremely busy time last month for the reason that it introduced its fresh no-contract plans and even launched the iPhone. Through the Metro PCS T-Mobile Merger and the new plans introduced by the company, it is being hoped that it would go through a complete revitalization. This is basically going to make it possible for the company to compete with rivals like AT&T and Verizon, thereby creating a whole new identity for it in the market.
According to Tim Höttges, currently Deputy CEO and CFO of Deutsche Telekom, who will serve as Chairman of the Board, "by uniting T-Mobile and MetroPCS, we have created a dynamic new player in the wireless industry that has the right strategy and management team in place to compete successfully in today's marketplace. We look forward to realizing the tremendous potential of the new T-Mobile."
The basic aim of this merger, as it appears, is to create such a 4G presence that would have the potential to rival against those that are created by larger companies like AT&T and Verizon Wireless. To be honest, even after the Metro PCS T-Mobile Merger, the company has not been able to exceed its subscriber count beyond that of Sprint. This means that even the newly merged company would continue to remain the fourth largest wireless provider in the entire country at least for the time being.
Back in the days, AT&T has made failed attempts to purchase T-Mobile, but faced intense resistance. However, the Metro PCS T-Mobile Merger gained immese approval and did not face any substantial amounts of resistance at all. However, there was one hurdle that the parent company of T-Mobile, Deutsche Telekom has to go through. The hurdle came up with the shareholders at the Carrier Metro PCS outright gave away threats of voting down on the original merger offer that the company had made. However, being a telecom giant based in Germany, Deutsche Telekom found its way through, and well, the merger finally did manage to get through.
The deal, as we all know by now, has finally come to a closure. T-Mobile, to be honest, is going to benefit a whole lot from this deal. Moreover, it is also going to enjoy its transition to becoming a no-contract business model.